Our Artists
ONTARIO Artists
tanzina amin
I am a Bangladesh-born Canadian artist, living in Toronto. Art has always been my passion as well as my retreat from the demands of everyday life. Having graduated in Architecture, I am drawn towards visual composition and balance. Growing up in Bangladesh, I was fascinated and inspired by the colourful culture and traditions. I am drawn towards forms which are powerful in their simplicity and embrace
an abstract style.
I started drawing and sketching on my own as a teenager, and eventually took formal art lessons. I have worked in various media including oil, acrylics, charcoal and ink, but oil is always my favourite.
As I started painting again after a 24 year break due to various reasons, I found myself moving away from realism and began exploring abstract expressionism, including taking a few courses. I became more and more intrigued with the versatility of abstract art, and how it can evoke impulsion in the viewer to find their own path to interpretation.
To me, painting is meditative, therapeutic and expressive. It helps me be in the moment. I am continually modifying my style and techniques to find new ways of expressing myself. I love to explore the realms of colour, texture and form. I hope my paintings can be a source of comfort and inspiration to the viewer, and somehow make a connection with one's inner self.
---
lisaCripps
Click here to see her work
Lisa Cripps was born and raised in Toronto, Ontario. Being the daughter of Dr. Dinshaw Mehta, a Parsi from India and Sarah (Sally) Ethel Mackay from Charteris, Quebec, Canada taught her to achieve her dreams with hard work and desire.

Like many artists, she searches for the "way," which is ever-changing, and ever-adapting. As a result, her artistic thoughts and vision have to adapt and change as well. She has learned to set goals for herself which are attainable instead of unreachable. Painting for her is visual poetry expressing her soul.
Her artwork is a continuance of her creative life's journey as she pursues an evolutionary life path. As she evolves, so does her art. Her art all comes intuitively, inspired by things she loves. Lisa is a self-taught artist, and learns more techniques with every passing year. She loves to paint landscapes, nudes, flowers, street scenes, seascapes, pastoral and abstract art. It's a matter of both left brain and right brain being in perfect balance that makes her complete. She does not stay within the same genre as she finds it too confining. She prefers to be eclectic and paint by emotion and not always structure.
---
Branislav Dordevic

Click here to see his paintings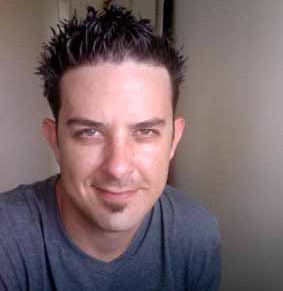 Branislav Dordevic is a Artist / Designer born and raised in Toronto, Canada and since a young age has constantly explored the visual realms of art, creativity and design.
With a diverse background in the arts and a formal training in illustration and design, he utilizes both right and left brain functions to explore his creativity through various mediums.
At his best, Branislav Dordevic illustrates the ow of energy in his art. Often appearing in lines and rhythms in both his gurative and abstract works, these ows capture the essence of moments of indecision, choice, connection, movement, disintegration and integration. From orderly, intentional, contemplative ows to erratic bursts of meaningful colours, generative, creative and evolutionary energies provide the foundation for each piece. In the spirit of contrasts dark lines of denition often appear in
Branislav's works. Each line and colour are indicative of boundaries and boldness, depicting a ferocious protection of their essence, meaning and origin of something precious and delicate.
---
Hilary Dunn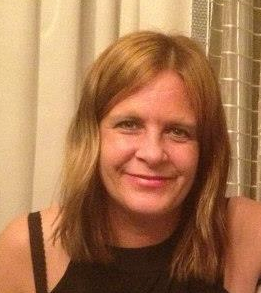 Click here to see her paintings.
Hilary is an abstract artist living in Toronto, Canada.
With a background in fine arts, film, creative writing, book publishing, photography and graphic arts, Hilary became interested in abstract art in 2011.
Her specific interest in developing a visual language using shapes, forms, colours and lines helps her to communicate strong emotions to the audience.
Hilary is fascinated by the multitude of perspectives of her art. "The abstraction implies a departure from reality and yet the viewer is always able to see something I have not, "says Dunn. "The total abstraction makes no reference to a perceptible reality but people draw their own perceptions based in realism, ultimately reflecting their own emotions."
Hilary is a self-taught abstract painter specializing in oil on canvas and her unique painting style is accentuated by her use of thick oil patches. She developed her technique without ever touching a paint brush.
---
Joseph Flasko, A.O.C.A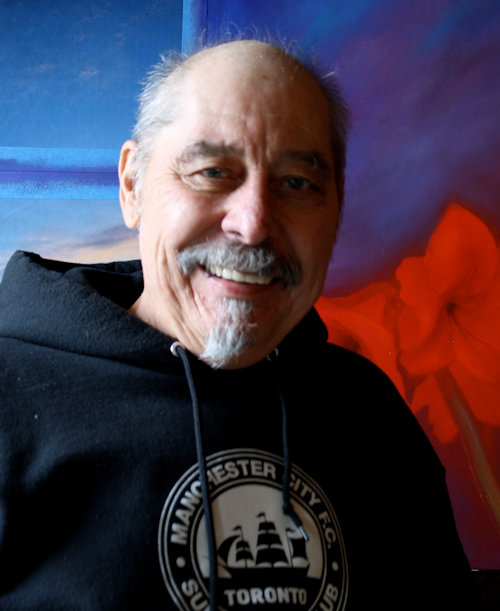 Click here to see his paintings
I have been painting for most of my life. Apparently I haven't made much of an impression on the nabobs of the art scene. No matter, I keep producing and promoting my work and the artistic flame keeps on burning. One must remember that art is a process. It is the means and not the end. It is a journey and sometimes the road is smooth and at times bumpy.
As an artist I continue to build on the creative legacy of the past. I employ different motifs in my work but the common bond that links them all is my love for the line and a continuing exploration of colour and light.
Even in darkness, art is a beacon of hope.
---
Leah Landau
Click here to see her work
Leah Landau was born in Poland in 1945, a child of holocaust survivors. As a child she lived in Israel and moved to Montreal with her family.
Presently she is living in Toronto. She attended Sir George Williams University and McGill University before moving to Ontario. Leah taught art, literature and drama to students from grade 1 to grade 8 at various school boards. After experiencing some health issues, she left her career and is pursuing her passion for painting. She has travelled extensively in Europe, North America, Australia, New Zealand, and parts of Asia.
Leah works on life drawings, abstracts and impressions. She is interested in experimenting with various media and techniques on paper and canvas. With one or two strokes of colour she skilfully creates movement and mood. Leah's background and travel has contributed to her keen eye and joy of expressing her artistic personal philosophy.
Presently she is working with the human form as a landscape which expresses movement and emotion. No two figures are the same and yet they constantly portray universal ideas and feelings regardless of race and creed.
She believes…..
"Art is not necessarily a thing of beauty. It is an extension of the artist's passions and emotions released through the hand and eye. Society's values and mores are also reflected in the artist's work. "
She is a member of Art workshops at the Koffler Art Centre in Toronto. She works from her studio at home.
---
ART JIVE
We are a group of two artists (Leah Landau & Sandra Duba-Shubs) who have worked together for many years. Our experiences and philosophies have lead us to similar views on the world and are reflected in our work. The work we do together mainly consists of making monoprints and teaching workshops.
Our emphasis is to create a visual experience which elicits an emotive or narrative response from the viewer. While working on a flat plane we strive to achieve imagery that allows the viewer to enter into a three dimensional world. We use various materials and textures to create a tactile exponent to our work.
We are inspired by our social consciousness. The multiculturalism of Toronto energizes us to explore colours, tastes and the universality of the human condition. Our work is embedded with an organic energy which develops meaning, mood and mystery through the use of line, form and colour.
Art is a story: we invite the viewer to enter our visions with their own experiences and memories.
---
Sandra Duba-Shubs
Click here to see her work
Born in Montreal, Sandra Duba-Shubs earned degrees in literature, history, and education at Concordia University and McGill University, and a graduate degree at California State College at Bakersfield.
Her art education began in 1986 in Toronto, starting with studies in ceramics at the Koffler Centre. From 1987 to 1991, Sandra studied sculpture and painting in an intensive part-time program at the Art Centre of Central Technical School, followed by ongoing studies at the Haliburton School of The Arts at Fleming College, the Koffler Centre, and private workshops. She is a founding member of Stoneworks & Company and Diverse Palette, and has been exhibiting since 1990.
Drawn by the texture and the sheer physicality of stone, Sandra worked with this medium to create a gesture, a movement arrested at a moment in time. She also revels in two-dimensional media, particularly printmaking and multimedia painting.
Sandra's imagery is inspired by her social conscience and activism and a gift for storytelling. Her work gives physical form to the strength of people and their struggles as she explores primal themes of birth, growth, giving, and awareness.
She has experimented with writing as a graphical device, using words to "tell" a story figuratively through mass, density, and line rather than conceptually through type.
Her more recent series — Back Alley Abstracts, and Prisms — integrate people with architectural motifs of the city.
---
Annamaria Sparks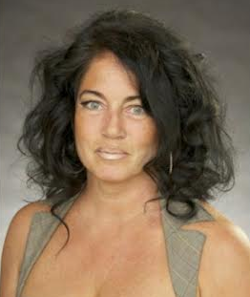 Click here to see her work.
Annamaria migrated with her children to Canada from the city of Guadalajara many years ago, where she studied visual art and dance at El Instituto Bellas Artes. She vibrantly displays her mexican influence and strong spirituality in her bold, colorful work.
Annamaria's Aztec and Mayan pieces invite the viewer to experience an extraordinary sense of joy, unlike the dark brutal carnage normally associated with that culture.
Her last few pieces touch into a dream like state of peaceful, thought-filled reflections.


---
Kirk Sutherland, A.O.C.A Hons
Kirk Sutherland is a Toronto based artist and art teacher. He graduated from the Ontario College of Art and Design(OCAD) in 1991. Sutherland holds an Associate of the Ontario College of Arts Honours (AOCA Hons.)
He has exhibited his work for over 25 years under the representation of many art galleries. Many of Sutherland's works are represented in both private and corporate collections throughout North America and Europe.
Sutherland is an accomplished, innovative, well versed educator as well. His experience as an artist has provided students with knowledge and skills in painting, sculpture, contemporary, and fine art studies.
Influences
Critically, Kirk Sutherland could be defined as being influenced by the likes of Monet, Matisse, Hofmann, Abstract Expressionism, Post-Painterly Abstraction, and Lyrical Abstraction. Sutherland study under François Thepot, Graham Coughtry, Gordon Rayner, Paul Sloggett, Dan Solomon, and Robert Hedrick at the Ontario College of Art and Design. He is influenced consciously, and sub-consciously by his surroundings as well as and the formal elements of art, and the materials he creates with. The two predominant elements in Sutherland's work hinge between his keen sensibility to colour, and his use of pictorial space.